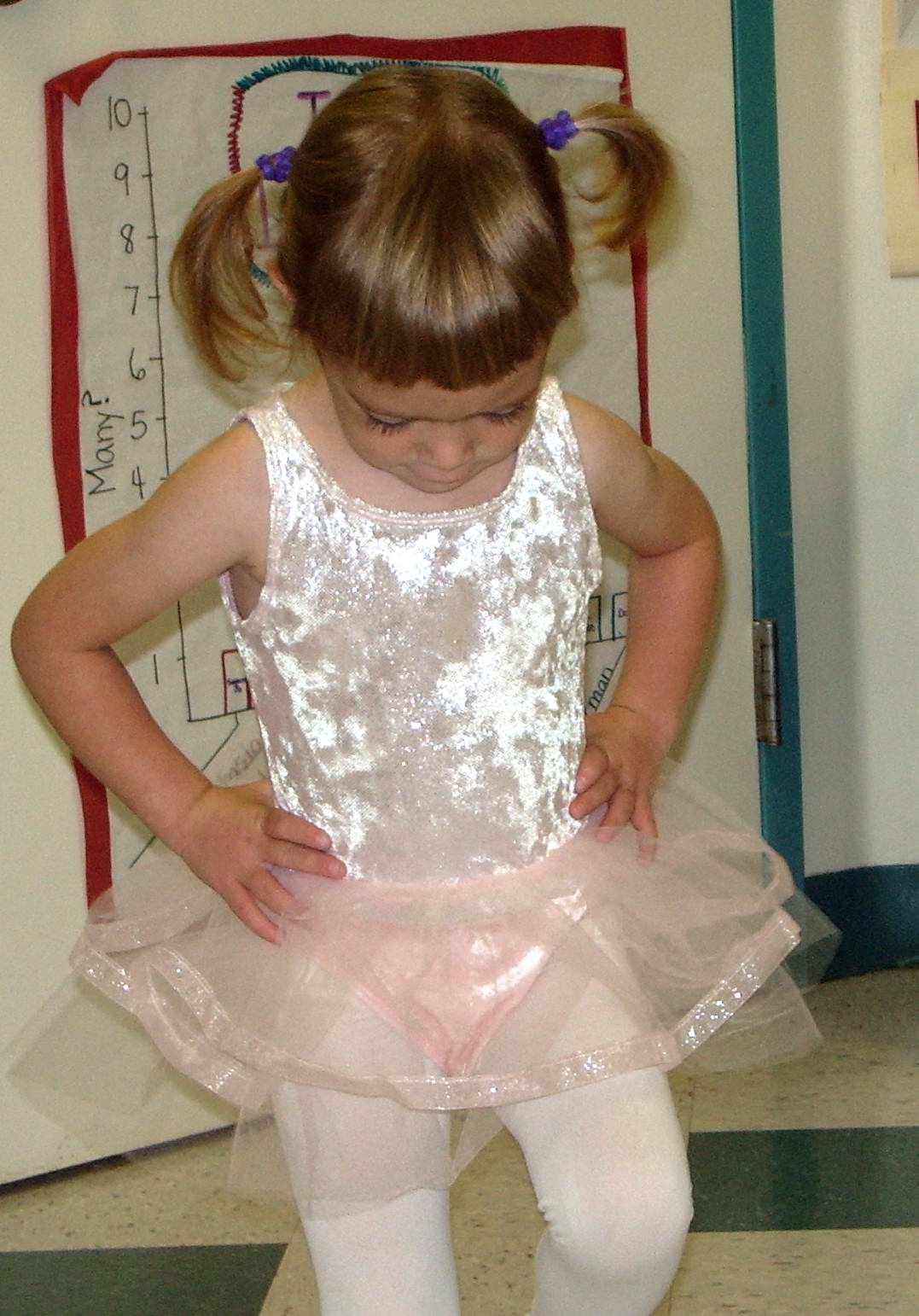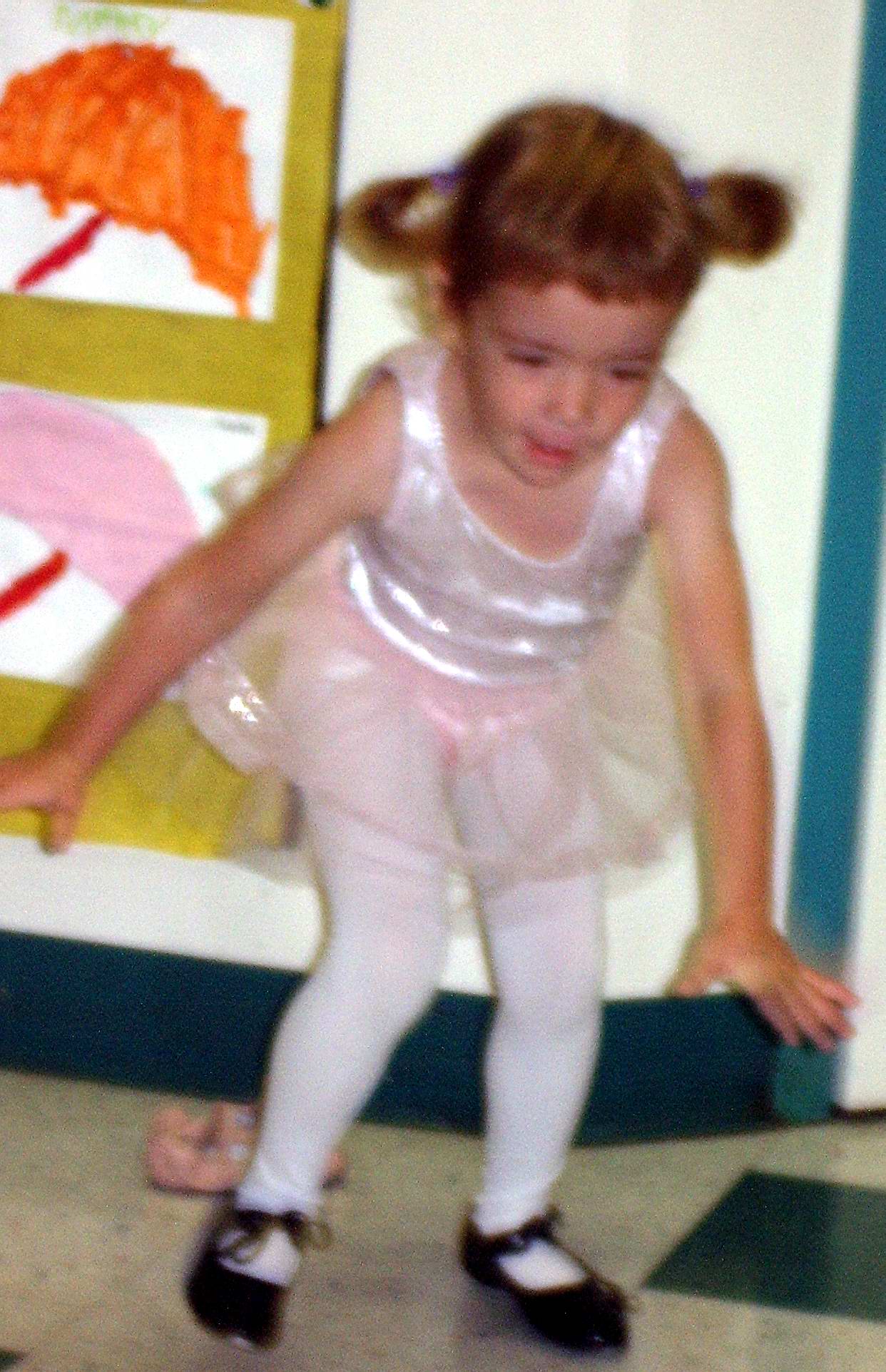 Today was our "end of semester" dance performance!
We did Ballet and Tap!
"Click away and you'll be bale to enlarge the pictures!"

We had to sit really still until it started and listen to our dance teacher, Ms Tyra. Oh and all ten of us did so well!





The we started with warm-ups and stretches. On the first picture you can see my friend Gabi and I. We are the youngest ones in class and the only ones still not three years old yet. I will fix that tomorrow. Gabi has to wait a little longer... On the other picture you can see me doing "butterfly", "straddle" and "pike".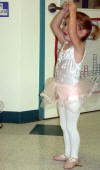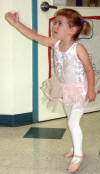 Then we followed with performing our basic ballet steps to the music of "nutcracker". We did first position, second position, plieŽ, passeŽ, arabesque, releveŽ, tendu... And we all knew what to do when Ms. Tyra used those terms. Pretty cool, huh?

Then we all assembled at the end of the room to start our first little dance....



All of us, one by one, danced and flew down the "stage" like butterflies! The first one here is my friend Juliana. You might remember her from her birthday party a while back. After Juliana was my turn. And on the last picture you can see me back at my position on stage. There was a yellow tag with my name on it, so I knew where to go. Each dancer had her own colored tag to go back to.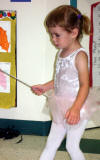 Our second ballet piece was a dance to "twinkle, twinkle little star". We all got a star, mine was pink and then we danced and all ended up in a row and Jasmine tapped us on the shoulder and we all turned around, 360 degrees, just like that.. and it all worked. I think Ms. Tyra was quite relieved. Oh and as you can see I already lost my little star.. It came off the stick. But Mommy glued it back on later that evening at home!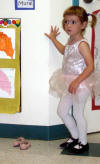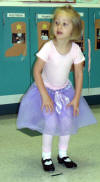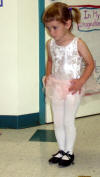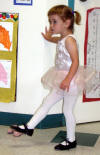 Then we switched out of our ballet slippers and into our tap shoes and did a little tap performance. You can see me mostly and also Maddy. Didn't she have a cool skirt? It has little butterflies and flowers floating between two layers. So you are wondering why I am holding on the the wall at times? Well the classroom we used for our stage had a really slippery floor and with the metal on the tap shoes I needed just a little more support.


Then we did our "curtseies" and received an award medal. And Ms Tyra was so nice to pose with me!
Thanks for visiting my picture page. If you enjoy my pictures, please let my mom know! You can e-mail her by jotting down her first name "nina" and then follow it with "@anishka.com"... that's her e-mail address... it's that simple! (without the quotes, of course!)