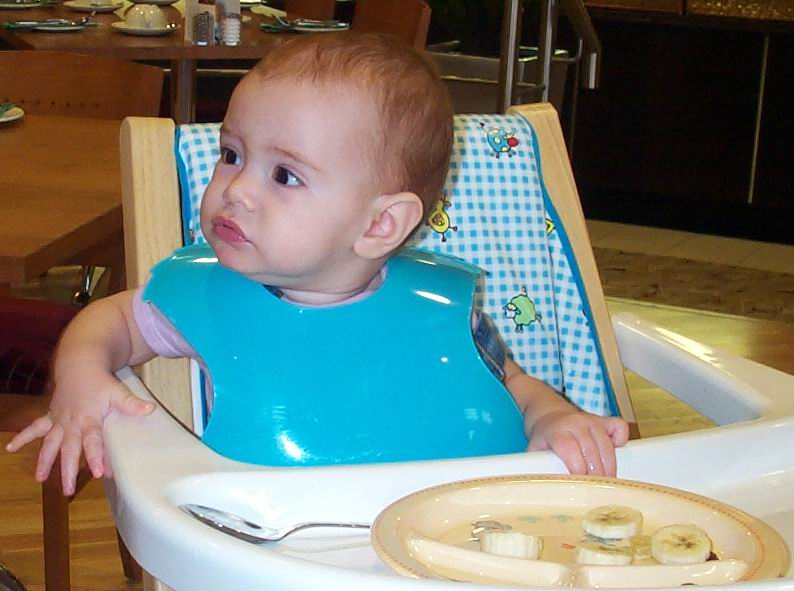 Anishka says, "Please enjoy the photos... "
If you click on a picture you will be able to see it larger!

My First Bath at the hospital... I just went through hours of labor and they wouldn't let me sleep... I wasn't happy!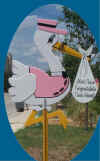 I think I may be hungry... just a little bit... I wasn't as in-touch with my feelings at day 16. Now, I am an old pro...

I give up... I'll be back to entertain you in a few minutes!
Yikes!! I must have been really Zonked Out!

What's the big deal? Just Relax! And thanks to Bruce I can do it in this wonderful chair

Grand Ma came to visit from France and she is spoiling me rotten... but, I don't care!


Grandma's boyfriend from France... speaks only French... and I can't understand a word he says. But, he sure is nice. He is taking Elenor Rigby for a walk. I thought Elenor was my younger brother, but he is a three year old Australian Red Bearded Dragon, which is a whole lot better than having a brother. I think he gets more attention than me!!

Grandma and Max at "The Oasis"


Grandma sent me this cute outfit from France, but it was so HOT that Mom decided to remove the bottom half and just parade me around in the shirt only. I've never been so embarrassed in my entire life... all six weeks of it! But, Grandma and Max keep lovin' on me like there's no tomorrow... I could get used to this!

We all were invited over to Susan's home for the 4th of July... I love arriving places with Grandma !!

Someone shot this group photo...

Now the pool party starts... Amanda, Sidney, and Tiffany all got silly... I took a nap.

Max spoiled me rotten at the 4th of July party... I think those firecrackers kept me awake... or, maybe I just felt like I was missing out on all the fun!

Grandma was keeping me occupied inside where the air conditioning was COLD!

Then, everyone had to do those silly sparkler things... I fell asleep on Susan's bed... earlier, I had made a wet spot on Susan's nice comforter, but no one seemed to be mad at me for doing it... maybe it was because I was crying so hard over it.

Tiffany always seems to have the best pictures! I hope that I am as pretty as her when I get that old, but she is, like, ancient at ten years old. Can you imagine that ??

Even Mom was persuaded into the act...

Susan's two little Angels at a Cuban restaurant called, get this, "Habana."

Susan forced Mom to pose for a picture with Grandma! I think Susan caught Mom a little off guard.

Still at Habana, waiting for a table AND air conditioning!! By now, I'm getting hot...

Earlier that day, Grandma was keeping me happy while Mom and Dad went for a drive and a walk around Town Lake. I can get used to Grandma being here!


Marisa visited earlier that day too. July 6, 2002 was one BUSY day for me! I heard Marisa telling Mom that when she has children of her own she wants all boys. Can you imagine that?? Well, she sure was nice to me... I'll forgive her for only wanting boys.

Then, a few days later, more long good byes. Max broke my heart when he told me he was leaving today. Some phony story about living in France.

This is Isaac's tree... Isaac is a beautiful little boy who came to this world for only a few short days... and then he went home. I don't know why this kind of thing happens. Maybe some day I will understand...



Mom says that I weigh eleven pounds now on July 14, 2002. I think I need to sleep some of that excess weight off for a while, no?


I am waiting for Mom to get out of the shower. We have an important appointment today, July 18th, and I always have to wait for them....


The appointment was at Carolyn's and Tracy's office. Those two ladies were VERY nice to me. I think I like them!

July 21, 2002 was a fun day. First, I got dressed up in Pink, thanks to Dave for sending me this outfit all the way from North Carolina!! I feel like a *real* Southern Belle now!!

I just love my new mobile! Thanks Kathy!
Getting Ready to run with Mom, July 23, 2002


Rick's Birthday, July 24, at Carrabas' and Susan was putting me in my cage... how I HATE that stupid car seat carrier thing. I was more interested in sleeping now, but those candles sure looked interesting. Rick must have hated them; he kept blowing at them, but they kept burning bright.

August 1, 2002. Our friend, Nouzha came by for a visit and gave me this cute little outfit.

Okay, this is my doctor and today is August 2, my two-month appointment. I just love this doctor... she is so cool!!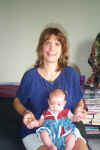 This is the night before we flew to Germany. Mom dressed me in this cute texas outfit "Oma Frankreich" and Max gave me.
We arrived at London Gatwick International airport early in the morning. We stil had to catch a flight to Munich.

I am resting comfortably in the British Airways lounge. Mommy carried me around the airports in this cute carrier. It's real comfy and soft.

Then it was time to catch the next flight. We had to take a bus across the airport.

This is the airplane we were going to take. It was so small that my stroller had to go into the airplane's belly.

This is a shot of the airport at Gatwick.

Mommy and I are taking a little snooze....

This is Munich airport. We just landed and were taxiing to the terminal. We have arrived!!!

In Munich, Mom has these really cool friends: Roland, Angelika, Marcel and Denise. They are sooo nice. They invited us to stay with them for four weeks. The first thing we did all together was visit this local Bavarian "Volksfest". All sorts of roller-coasters and fun little booths. Marcel and Denise were in 7th heaven... I think I would like to visit another "Volksfest" when I am a little bit older. Couldn't really take full advantage of all this cool stuff that had there this time...
...pictures from Germany to come here...

Mommy and I are back home and Auntie JoJo is visiting to help Mommy a little bit. Auntie JoJo took a couple of really nice pictures of me.

This is me September 27th 2002, I am now 4 month and 3 days. I am becoming an old-timer on this planet.


These next nine pictures summarize a little fashion show auntie JoJo and mommy tossed together for me.

This outfit is very special. It is from Mommies friend and colleagues Kathy. I think I still have to grow into this hat a little bit, don't you think so too?

On this dress I specially like the little fish. I wonder if I will be able to tear it off soon and stuff into my mouth...
The three of us had a lot of fun with this one. We thought I looked so funny with the hat. I just had to create a smile to match it...

I just love this little blanket. Debbies mom Helen made this specially for me. All by hand! Isn't it just wonderful?

Here I am with auntie JoJo's outfit. We all thought it really wouldn't fit yet. But it sure did. This little heart-pocket is just so adorable.

Carol and Chip "from next door" contributed this dress to the fashion show. It almost fits now and I just love it.

This is a cute little jumper. It's very comfy and has still lots of space for me to grow into. "Oma Frankreich" brought it all the way from France.